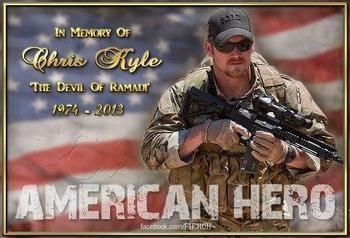 Last Saturday America lost one of its true heroes, Chris Kyle. Chances are you might not have even heard of him. Nonetheless he was a hero and died trying to help a veteran with PTSD. Chris Kyle was a US Navy Seal and was the deadliest sniper in US military history. He had a confirmed 160 kills (out of over 250 claimed kills). We're not talking easy peasy shots here either. The Seal snipers are arguably the best of the best. He was actually given the nickname "Devil of Ramadi" and had a hefty price tag on his head. If you want to read the wikipedia entry on Chris Kyle you can find it
HERE
. You can also find an article covering the statement released by his family after his death right
HERE
.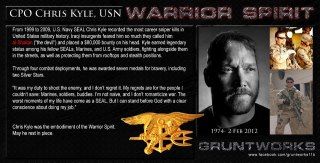 Chris Kyle and his friend Chad were both killed at a Texas gun range last weekend. Chris and Chad were there doing some volunteer work with a veteran who had PTSD. DO NOT leave any comments about the validity or intelligence of taking someone with PTSD to a gun range. There were some reasons that Chris Kyle believed that this would be a safe outing or he wouldn't have done it. He was not a dumb man and had too much to live for by making a dumb move so don't say anything. Yeah it's a bit of a rant but the stupidity of some comments have been so appalling and do nothing at this point other than hurt the survivors who are already hurting enough. Chris Kelly was a reportedly a man of deep Christian faith and love of country. He felt that volunteering and giving back was the right thing to do. The fact that he was lost while trying to help someone truly just increases the tragedy of it all.
Through my past work with the military I have had the opportunity to meet members of different special forces units. These men are some of the toughest of the tough. The thing that is truly intimidating about them (at least the ones I've met) is not their physical strength although that's damn intimidating but their mental strength. If you've read or watched anything on getting into any of the special forces the thing that truly makes or breaks many candidates is their mental strength. You can be as physically strong as the Incredible Hulk but if they break your mind it just doesn't matter. These men deserve nothing less than the utmost respect. You don't have to agree with the war, which ever one it might be, you don't have to agree with whatever administration is currently in office pulling the strings on whatever war. You do need to respect any serviceman or woman that is making it safe for you and yours to sleep safely tonight. The ones were are sent in to the worse situations and keep everyone a bit safer tonight, tomorrow night and the night after deserve respect. I would think it's a safe bet that most people could not do what they do or must up the bravery they have to do what they do.
Yes if you can't tell a)I'm a big supporter of the military and b)some of the comments that have floated about after Chris Kyle's death I find upsetting. This man defending our country in ways that most of us cannot possibly fathom. He came home and opened a business and tended to his family. He didn't have to volunteer. He did it out of the goodness of his heart. He died in a horribly tragic way and leaves a wife and 2 children behind. Chris wrote a book called An American Sniper. If you want to read it you can find it on Amazon. Just click
HERE
.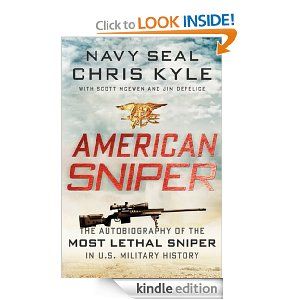 If you are interesting in some other very fascinating books about and by Special Forces members here are a few that I recommend:
Rogue Warrior
by John Marcinko. He was the founder of Seal Team Six. You know the Seal team that was the best of the best that killed Bin Laden? The first time I read the book I walked away thinking a) this man is a complete bad a$$ and b) this man is freaking crazy. It is a very good read. You can find it
HERE
.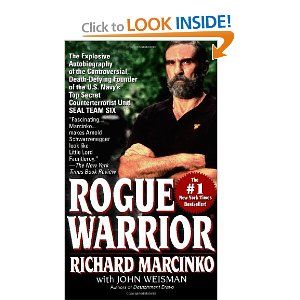 Inside Delta Force
by Eric Haney is another great book. If you are a fan of the show The Unit (Hello Max Martini!) this book is what the show was based on. If you read the book drop me a line about what you remember the most about the book. The guy with the foot callous' always kinds of makes me cringe. You can find that book
HERE
.
Another book that I haven't read yet but have heard positive things about is
Lone Survivor
by Marcus Luttrell. I'm a fan of Marcus Luttrell after hearing about him and from him on the Glenn Beck show many times. You can find that book
HERE
.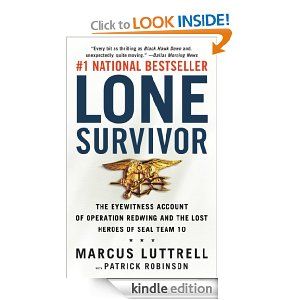 Even if you decide not to check these books out tonight when you before you go to sleep say a prayer of thanks for those currently serving, for those who died surviving and for those left behind.