Every single summer I have these plans to have fun, do some academic activities with Princess Bear (PB) and just have fun and relax. Every single summer it seems like we're going from activity to activity! As long as she's having fun, right? In addition to the regular summer activities of art classes twice a week, meeting with the tutor twice a week, swimming lessons twice a week and weekly guitar and piano lessons there have been some home improvement issues and a very good family friend's wedding which I did a lot of helping with.

Also I needed some time away from the blogosphere. Have you noticed how normally nice people will just make judgements without the facts or say things that they'd most likely never say in real life? Why is it that the keyboard gives such an inflated sense of righteousness and boldness that people would never display in real life?

So last week was the beginning of having our back patio rebricked. My dad and I tore up 2/3 of the bricks a few years ago when my parents were going to have a deck put in that would fit the requirements so PB could once again have an outdoor pool (we previously had a 15' by 42" pool but had to take it down because our fence was 2" too short). The guy that my parents hired to build the deck never showed up. Since they hadn't paid him it wasn't a big deal other than PB really liked having her own pool at home. We also had a sandbox where the bricks had been. We had used the bricks to line our garden paths so that part was cool. The sandbox with mortar chunks that attracted weeds was not so cool. Part of the problem with the old brick patio is that it was old. Another part is that there are underground sewer pipes that run along the back of our property. Apparently as long as my parents have lived in this house (about 40 years now) there has been an issue with the pipes leaking. Our next door neighbor used to have a truckload of dirt delivered every other year to fill in the sinkhole that these leaking pipes caused. Another neighbor has had to replace their fence twice because it eroded at the bottom because of this. As luck would have it the storm drain for this area is in the corner of our yard. That means whenever there is heavy rains our yard tends to get a lot of water as it makes its way to the storm drain. The leak has not only caused our patio to raise unevenly and crack but it has caused our foundation to crack. About 15 years ago the city paid to have our garage floor jacked up after it cracked and went to hell because of what these pipes have done. Now whenever we have a heavy rain we wind up with the water that should be going to the storm drain winding up in our basement. This has caused all kinds of cracks in the basement flooring too. Usually the basement dries up a day or two after a good rain. Since we've been having days upon days of rain our basement is a hot mess. Last week a guy from the city game out and looked things over. Admitted there is a problem and they are supposedly going to install some sort of camera in the pipes to see what is going on. I really hope this happens soon since I'm damn sick of the damp smell and half expect to find a duck every time I go downstairs to switch out the laundry!

Last week was also really busy too with a good family friend getting married. I've known Emily since she was a very little girl. Her mother, Nancy, was my younger sisters piano teacher and is now PB's piano teacher. Nancy had 3 kids with her husband. The youngest was born on a Friday (by C section) and they had just been released and got home. Nancy and her husband were trying to come up with a middle name for baby Hannah and the dad literally dropped dead in the living room. So Nancy had 3 kids 8 and under including a newborn to raise on her own. My family had been close to them before Clark passed but Mom really adopted them after that. For many years they were with us for Christmas every year. I was always a baby person so when I got out of class for the day if I didn't work I'd call Nancy and tell her I was picking up Hannah. I used to take Hannah everywhere with me! A few years ago Nancy had a very good friend who had adopted 5 siblings. The adoptive mother died of cancer a few years after she'd adopted the kids so Nancy adopted the kids. Can you imagine raising 8 kids on your own? PB absolutely loves all of the kids and she spends a lot of time with them. Emily and her fiancee were engaged in February and married this past weekend. I offered to help in anyway that I could. A few weeks ago Nancy called and asked me if I'd do her makeup for the wedding. She and the girls never ever wear makeup. Then she called a few days later and asked if I'd also do makeup for Emily and Hannah. Since they don't normally wear makeup they wanted a very light neutral look. The girls had gone to a salon and had makeovers done but they felt very "painted". So in the last 2 weeks I've spent a lot of time in Ulta and Sephora (a real hardship!) getting stuff needed to turn these ladies into a simply, natural made up version of themselves. It was a lot of fun spending time with them getting ready for the big day. It was also a beautiful wedding. The one thing that I noticed repeatedly is how much Emily and Josh were laughing, smiling and just having a great time during the ceremony itself! Here are a few pics of their big day.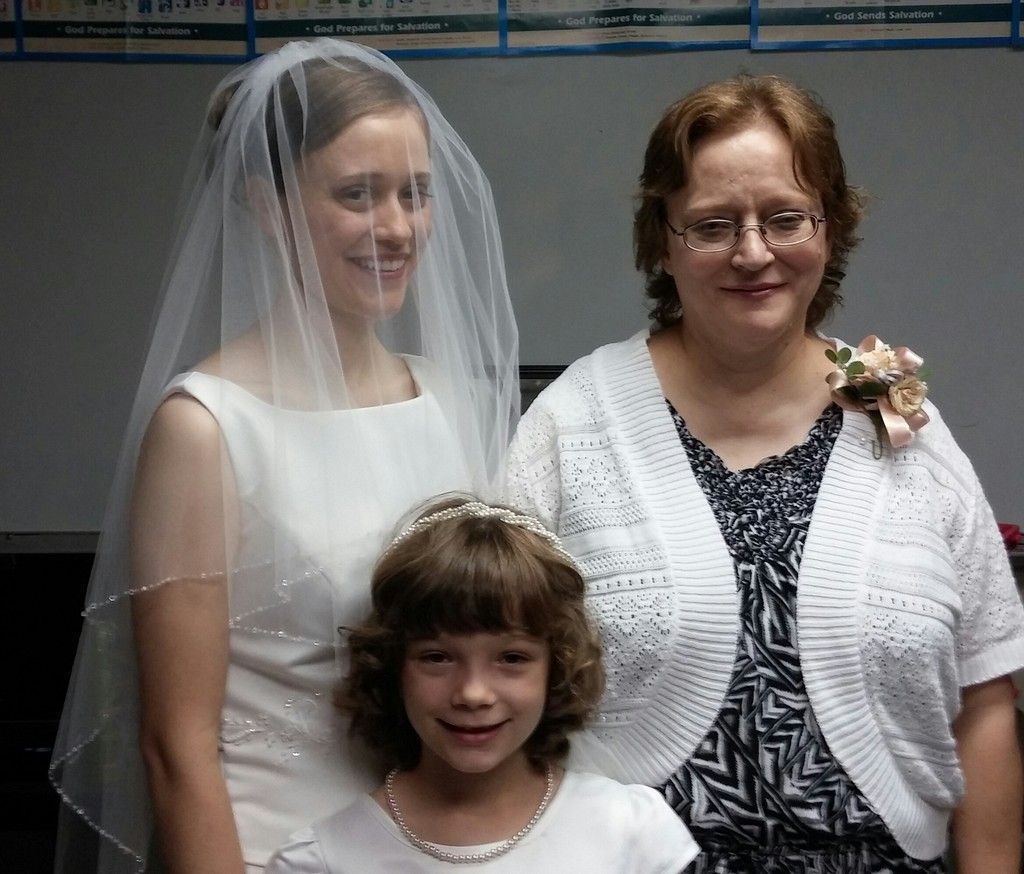 Sorry that it's fuzzy. It's a cell pic that's been cropped. Don't you just love the smiles?
Emily and I have bonded over Hashimoto's disease and she has Grave's disease as well. She was horribly sick for awhile and Josh stood by her through everything. They've been friends for many years and have a great foundation. I hope they have many years of happiness together! I'm kinda hoping they start a family soon so I can get my baby fix on!