And it was just lovely! Ok not at first. Princess Bear (PB) was still running temps in the high 101* and low 102* range. She woke up in the middle of the night vomiting. Nothing like having your child wake you up saying "Momma- I threw up in the bathroom sink. You need to clean it....later. Now I need you to hold me". We slept until 8:15am which is completely unheard of for Christmas morning. I woke up and grabbed paper towels and some Alice's Wonder Spray (best green cleaning general purpose cleaner EVER!!! You can find it
HERE
). Now I'll admit that I'm not much of a morning person. As in unless it's tall, blonde and really good chances are it should leave me alone kinda thing. There I am in the bathroom thinking "Hey...this isn't bad! Merry Christmas to me!". Then I look at the mirror. It'd taken a direct hit. Btw, don't use the Alice's Wonder Spray on the mirror (it has essential oils and will streak!). I came back out to check on PB and this is what I found: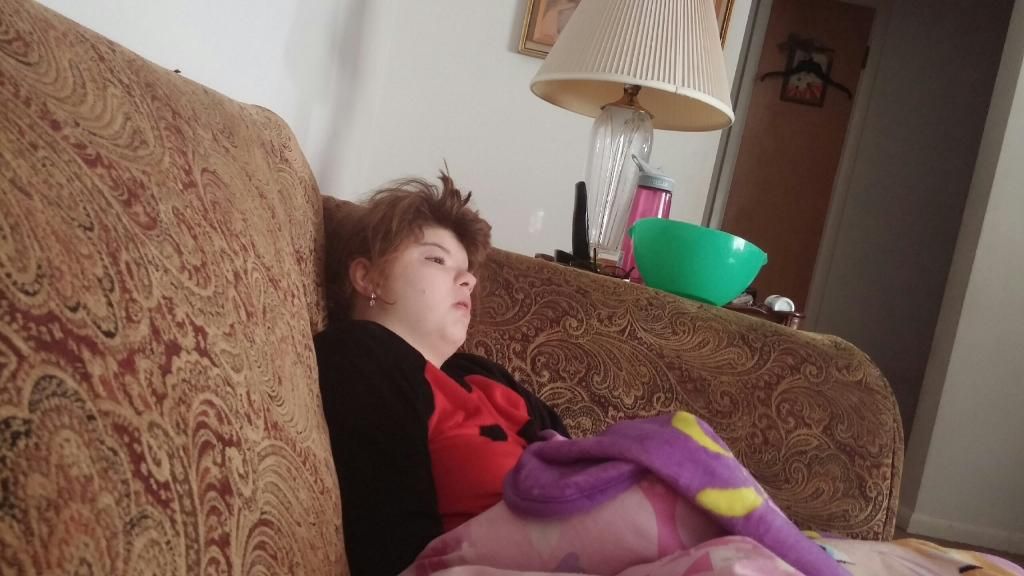 There she was sitting on the couch looking at the pile of gifts while looking completely miserable. You know when a kiddo is staring at a pile of gifts and isn't already attacking them something is not right. I gave her some meds and applied some essential oils and we just chilled for awhile. About an hour later she felt better and wanted to open gifts. After that we watched the Disney Frozen parade. They had filmed part of that while we were there which was kind of cool to see! Tim Tebow is just too damn cute! After that I started the Glenn Beck book PB bought me for Christmas and we all took naps. After that it was time to hit Walgreens to try to find some sodas and juices that PB would drink. With her having Gilberts syndrome it is important to make sure she doesn't become dehydrated when she was sick. My mom ordered Dolphin Tale 2 from Xfinity and it was a very chill night.
Today it was more of the same. Thank G-d for Netflix! Her temp is finally down to a low grade temp so I'm very thankfully. We ordered How to Train Your Dragon 2 and chilled with that. It has been a most unusual Christmas for us. Definitely not the big Christmas Eve hoopla. Then on Christmas Day we usually get together with my sister, brother in law and nephews and the kids have a Birthday Party for Jesus. We want to remind them that it's about more than opening gifts. So we have a birthday cake that says "Happy Birthday Jesus" and we discuss what Christmas is about. We also at that time pick something that the kids are going to do for in Jesus name for his birthday. We've picked a charity in the past and the kids would have to do certain chores to "earn money" which we then send in to the charity.
I can't say that I liked that PB was so sick for the holidays and I definitely missed some of the traditions but it also make me think about what is important and what isn't. What traditions are worth keeping and which aren't. Now if the little Princess would just recover so we could spend some time with my nephew! :)