Really. What's in a name? A LOT! Ask anyone that is pregnant trying to come up with a name for their upcoming bundle of joy! In the last two weeks I've had 2 different conversations about baby names. It's no easy task! When I was pregnant with Princess Bear (PB) I broke up with her father very early in the pregnancy so I was doing the name picking by myself. The two names I had picked were Kylie Rose or Jordana Shai for a girl and Luke Owen or Cade William for a boy. My plan was to wait until I had the baby and "see" which name fit them. Towards the end of my pregnancy I became engaged to my best friend and thought he should have some say in the names. He really didn't like the names I had picked. He thought one sounded like a cheerleader and the other a stripper. Neither of which we wanted in our family.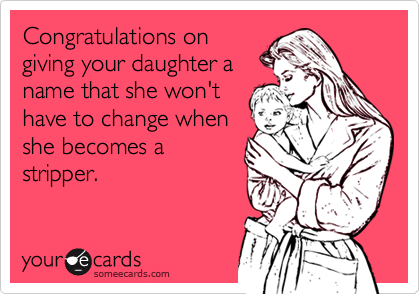 We picked a first name pretty quickly. If you're very curious about PB's name you can find it
HERE
. I don't post it on a blog because of issues with her birth father. Actually in the baby name book we were using it was listed as a boys name but we liked it. Then less that 2 weeks before giving birth my sister was married. One of the groomsmen is a family friend that lives in Ireland with his wife. His wife told me that it isn't a first name for boys or girls there but a surname. We still used it.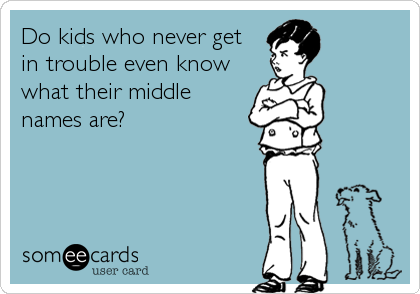 The middle name was much was harder for us to come up with. I wanted Delaney as a middle name. Wayne told me to go outside to the front porch and try screaming it in one breath. If I couldn't it didn't pass the "You're in trouble" scream test. It didn't pass. Then we narrowed it down to Rose which is my middle name after my maternal grandfathers mother and Lee which is my mom's middle name. We were going back and forth for a few days but knew we had a deadline before Wayne was deployed. He called one day and was so excited he thought of the PERFECT middle name! Paige. Great name. As a matter of fact it's my sisters middle name. Therefore not mine to use!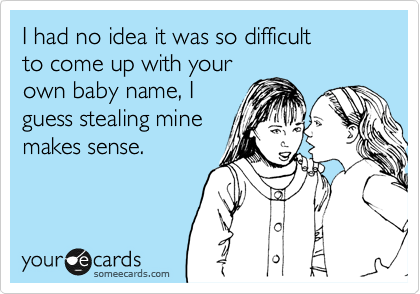 This leads up to a whole different issue on baby names. "Calling dibs on a name". My dad is one of 6 kids and my mom is one of 4. I have more than a few cousins. 16 cousins on my dads side and 8 on my moms. A fair amount but not so many that names needed to be recycled either. More on that in a second though. When my mom and dad were having kids they decided if they had a boy that wanted to name him Matthew Owen. Matthew because they liked it and Owen after one of my mom's closest friends who had died. My parents had me and my sister and shortly after my sister was born one of my dad's brothers had his first child. They named him Matthew and my mom was PISSED. She had reserved that name. I really don't think you can do things like that. I always thought I'd have a Victoria Rose and call her Tori. One of my exes stole that name. Good thing since 3 years ago one of my cousins had a Victoria Rose. I have 2 cousins from my dads side of the family that are named Joseph George. Really? The first was named after both of his grandfathers. Makes sense. The second was born several years later and is named after 1 grandfather. Really? You couldn't get more original?
Being original without naming your kid Apple or Moses is somewhat hard. Names go through trends. I mentioned that I liked Luke Owen or Cade William for boy names. Now it was more than 12 years ago when I was picking out baby names. Since then Owen has blown up for a boys name and Caden/Kaden became huge as well. I think if I were having a child now both of these names would be out of the running. Another girls name that I LOVED was Harper. LOVED it! Then Victoria Beckham used it. Throw that out the window. Having a name that you're going to have 3 friends in your class with the same name sucks. Trust me! I speak from experience! My named was supposed to be Jordana but my parents changed it at the last minute to Sarah. Walk into any crowded room and scream Sarah and you'll have numerous responses. It sucks!
It's hard picking a cool name that makes sense. I've never got the monthly or seasonal names that didn't sync up. For example a little girl born in December but named June. A little girl named Autumn that was born in February. A boy named August born in April. You know that your kid is going to spend the rest of their lives saying "Yes my name is June but I wasn't born in June. Weird, right?". Then you have the whole initial thing. Like Phillip Ian Grahm. P.I.G. Yeah...do you really want that to be your kids initials? One of my cousins has a child whose initials spell out Mr. T. No he doesn't have a little mohawk or wear a ton of jewelry but that's what your mind goes to isn't it? "I pity the fool!" !
Then there are the names that have correlating songs. Again, something I can relate to! Can I tell you how sick I am of this song???
HERE
To add insult to injury they misspelled Sarah! Then there is this one
HERE
or you can go a bit more modern.
HERE
I've had both of those sung to me more times then you can count! One of my closest friends is named Maria so she hears this one all the time.
HERE
When I was managing a tanning salon one of the girls who worked for me was named Cecilia. She hated people singing
THIS
or
THIS
to her so she started going by CeCe. I've always liked the Times Two version since Simon & Garfunkel was way more my parents thing!
You also have to go with names that don't come with preconceived notions or you identify with people you don't like. I mentioned before that my parents originally planned to name me Jordana (pronounced Jor Donna) from the Leon Uris book Exodus and movie based on it. My mom loved that she was a strong woman and thought it was a pretty name. My dad mentioned that everyone would call me Donna. My mom had gone to school with someone named Donna that she hated. There went that name! When I heard that story my first reaction was "I'd go by Jordi!". I have one friend and a cousin that have named their kids Micah. That instantly reminds me of the little boy I went to grade school with named Micah that was a bit different and was teased unmercifully. The name now makes me sad for what happened to that boy. So when my friend named her son that and did a "Isn't that a great name?!!?" it's always a fine line between not lying and not hurting feelings.
So far my daughter hasn't said much about her name except for the fact that she hates that everyone shortens her name to Kier all the time. She also doesn't get the fact that her name is not common and trying to find one of those name key chains at Disney was not going to happen!
So if you're still having kids and are playing the name game...have fun with that!