Oh my gosh you guys!!! So Friday night was the Luke Bryan concert and it was AWESOME!!! I had such a good time hanging out with Princess Bear (PB) at her first concert!!!
We had great seats and got there in plenty of time since this was the first concert at the Civic Center with the new security measures in place. It was kind of a mad house going in but wasn't as crazy as I thought it was going to be. The big concern was if when they did the body scan that any of the plates, screws or other hardware from PBs cranial vault reconstruction surgery would trigger the alarm. The head of security had already told me he thought it'd be ok and if not to have him paged to the entrance we were at. Luckily it was not a problem at all. Then we stood in line for 20 years to buy everything, ok almost everything, that PBs little heart desired. She had a budge of $135. My parents gave her $75 for Easter and part of her birthday gift and I threw in some money. She got up there and wanted a long sleeved t, 2 short sleeved t's, a baseball hat and a bracelet. Yeah- she was $5 short. It made more sense to me to give up the $5 bracelet but she decided to forgo the long sleeved t. She was also a bit disappointed that I wouldn't let her get the only pink t shirt available. It said Double Shot of Heaven on it and I'll be damned if my 12 year old is walking around in that! I waivered back and forth on a khaki colored baseball hat for myself since there was some money left. Opted not to get it and now I'm kicking myself. Oh well. There's always next time right? We were there for both opening acts, Dustin Lynch and Little Big Town. I like Dustin Lynch and good golly does the man have a strong jawline...yum! PB and I both like Little Big Town so that was cool. PB does this thing when she gets very excited and all her muscles become rigid and kind of freeze. It's an excitement induced reaction. It's gotten to the point that for years it's only been her face and we can get her to calm down very quickly. When Little Big Town started playing Boondocks she got so excited that her whole body went rigid. I started to worry but she was able to relax quickly. All that kept on going through my head is that we weren't even going to make it to the Luke Bryan part of the concert. Can't even begin to tell you how glad I was that it went away quickly!
It was so much fun to see a concert through her eyes! She had me taking small videos & pictures throughout the night.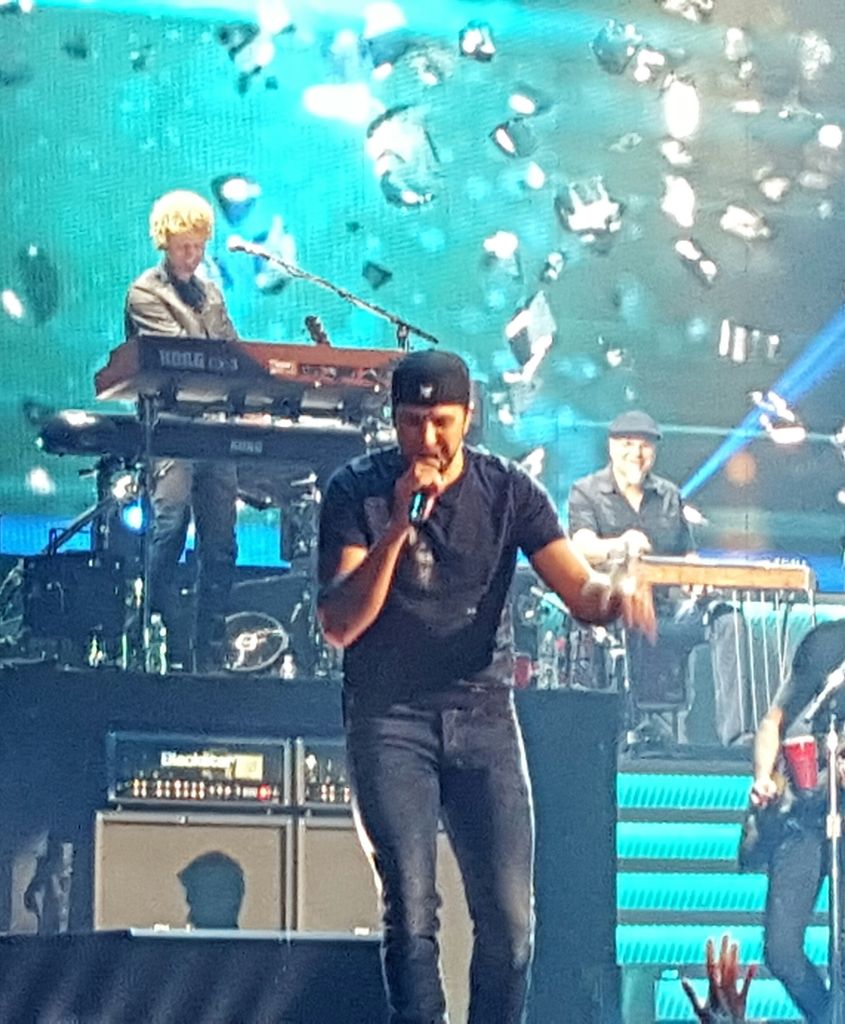 I was loving what was going on with the screen during Kiss Tomorrow Goodbye. It's always been one of my favorite songs. As they started playing it on the screen there were two rings interconnected and then they shattered apart. For the rest of the song it was the shattered pieces just spinning around all over the place. Very cool! "Love me like you loved me when you loved me and you didn't have to try....". LOVE IT! The screen use was also very cool during Roller coaster. You hear all this clanking going on. PB even looked at me and asked what was going on. Hello? How do I know?!!? Sit back and relax. We'll find out! Then you see a roller coaster track and it starts going down the track. Great intro! Then it went into the video. How freaking good looking is
Evan Geiselman? I think it's an unwritten rule that surfers need to be hot.
Now I'm sure I'm aging myself here but back in the day during songs like this everyone broke put their lighter to start waving around. Yeah- now you just throw on your cell phones flashlight app. This song has been said to be a tribute to Luke Bryan's siblings that are deceased. It's a great song but I did damn near lose it. The concert was Friday night and Saturday would have been my friend Mike's birthday. I'm sure I've talked about him on here before. We went to school at WIU and stayed friends afterwards. As soon as he graduated he became a Chicago Police Officer. I'd been a bit weepy all week with constant thoughts that his birthday was coming up. It was beautiful to see the Civic Center lit up like that. PB loved the "stars" song.
Mikey- that beer's for you baby. It was even a Miller lite. Miss you!
Play it Again & Kick the Dust Up are PB's favorite Luke Bryan songs!
This one isn't my video but my nephew wanted to know if they were in a cage. Lol!
Here Luke Bryan and Dustin Lynch are covering Brooks & Dunn Play Something Country
Here is Luke Bryan & Little Big Town covering Let's Get it On. Not every day you see Country stars covering Marvin Gaye!
I did get in trouble because the day of the concert PB wanted to make a poster and I wouldn't let her. We didn't have time and I didn't want people behind us to get upset because of their view being obstructed. She seemed ok with my explanation until we got to the concert and she saw some people with posters. She also didn't understand why she couldn't just stand around after the concert until she could meet Luke Bryan. We did try contacting his management company and my mom's best friend tried some contacts that she had at the Civic Center and meeting him was just not in the cards. She did have a great time and walked out an even bigger fan of Little Big Town which is cool. I don't think it would be possible for her to love "her" Luke Bryan more than she already does! I'm just glad that she had a good time!