Ok first thing first. Can I just have a WTF moment? Cubbies, really? I get that losing when you're not at home is easy to do. Home team advantage is real. I get that. I won't even discuss that you freaking beat the Mets the last 7 times
IN NEW Y

ORK
before this playoff series. You brought it home. Game 3 could have changed the tides. What the hell is going on?
Thanks for allowing that vent. I really appreciate it! Anybody that has been with my blog for awhile knows that I'm a Chicago sports fan. It's in my blood. I'll be the first to admit that I'm much more die hard about football. I can sit down and watch an entire football game on TV no problem whatsoever. I like baseball. I really do. I just have a really, really hard time watching a baseball game on TV. Now take me to Wrigley and it's all good. There is something about hearing the crack of the bat. LOVE IT! Perhaps that's why I'm more of a football fan. I do love the Cubbies. Really I do. I just don't watch entire games on the TV. Now that hasn't been the case since the Cubs won the wild card slot. All games have been on for the duration of the game. It's been a big topic of conversation in our house. My Dad was talking to Princess Bear (PB) about how lucky she was that there was a chance that she could see the Cubs in the playoffs when she was only 12 years old. My dad had to wait until 1984 so he would have been 38.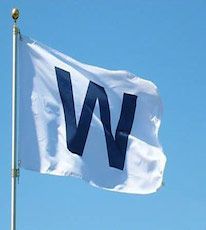 We also had to explain the whole flying the W concept to PB. Its things like that that are making this post season a lot of fun and great family time.
One of the few things that I've always told PB is that being a Chicago fan in most cases (be it Cubs or Bears) is a lesson in loyalty. It's not about winning. It's about being part of a tradition. That said I'm am completely bummed for my Dad. To say that he loves the Cubbies is an understatement. The first time we had to bring PB up to Children's Memorial to meet with the surgeons she was only 2 1/2 weeks old (yes weeks). After the appointment my Dad tells me and my mom he has a stop to make. We figure he's going to the cemetery to check on his Dad's site. We're sitting in the car and I realize we're not heading to the cemetery. He goes to Wrigley and gets out. He looks at me and says "Give me the baby." Um...ok Dad- wtf:???? I hand him PB and he holds her up and says this is where the Cubs, your team, plays. Really Dad? Now he's just waiting for my nephews to be old enough to take to a game. Although my youngest nephew is pushing the bonds of acceptable behavior by flirting with being a Cardinals (and a Packers) fan. I did tell him if he ever came here in Cards or Packers gear that I would take it off and turn it inside out!
So while the fat lady has sung yet she's warming up. I'm keeping my fingers crossed and I'll utter a few prayers for a Cubs miracle. If only to see my Dad's face.
Now on to Luke Bryan. PB and I love us some Luke Bryan.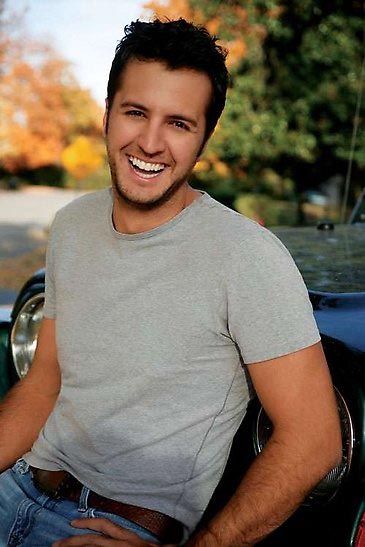 I mean could he be any more adorable???
She had me at Target the day that Kill the Lights was released. He's one of the few artists that I have to buy 2 copies of the CD. Otherwise the kid is either in my room or in my car swiping my copy! I thought that taking PB to Luke Bryan for her first concert would be a great idea. Anybody remember when I talked about this awhile back? It was either here or on Facebook. Remember that I set up PB's yearly Shriners visit to coincide with when Luke Bryan was playing in Chicago? When I was able to make her appointment for that week I was so stoked! The next thing was to buy some tickets. It had to work. I made the appointment. Things were syncing up. Now this is where things get a little weird. PB suffers from focal seizures. Thankfully they don't occur as much as they used to. The thing is that flashing lights is one of the things that can set off seizures (not just focal but that's all I have to worry about with PB). So in order to take her to see Luke Bryan I would have to buy 3 tickets so my mom could accompany us just in case PB had a focal seizure. So there I was having saved a few hundred dollars and not having gone to a concert in a damn long time (the U2 Elevation tour in 2001 was the last concert I went to. That's wrong on so many levels but that's another post). So there I am at my computer ready to buy some tickets to Kick the Dust up tour. Life is going to be great. PB is going to see her beloved Luke Bryan. Then I see ticket prices. Nosebleed as in upper upper deck tickets are $150 each. Now I love my child and would do all kinds of craziness to see her happy. There was just no way that I could justify spending $450 on tickets to make it happen. I was so bummed and apologized all over the place for getting her hopes up. I felt like such a shithead for getting her hopes up.
Now let's fast forward to today. Our local Civic Center announced that Luke Bryan is going to be playing here in February with Dustin Lynch and Little Big Town. Color me excited! This might be a more doable situation for some many reasons. It would still be hard for me to come up with the money for tickets but with it being here in town I'd only have to buy 2 tickets. Still a pretty huge hunk of change for a single mom that doesn't work in order to take care of her medically fragile child. The plus is that I wouldn't have to buy a ticket for my mom so that helps lower the cost. G-d forbid if PB has a focal seizure while we're there my parents could get in the car and be at the Civic Center within 10 minutes. That's probably less time than it would take for me to go get the car in the parking lot and get back to my mom & PB at the United Center if we went in Chicago. Then we could just wait out the seizure or if it didn't go well we'd literally be 3 minutes from the Emergency room. I honestly don't know how I can save the money but I have a couple of months to try my best to make this happen for my daughter and I'm going to give it my best.