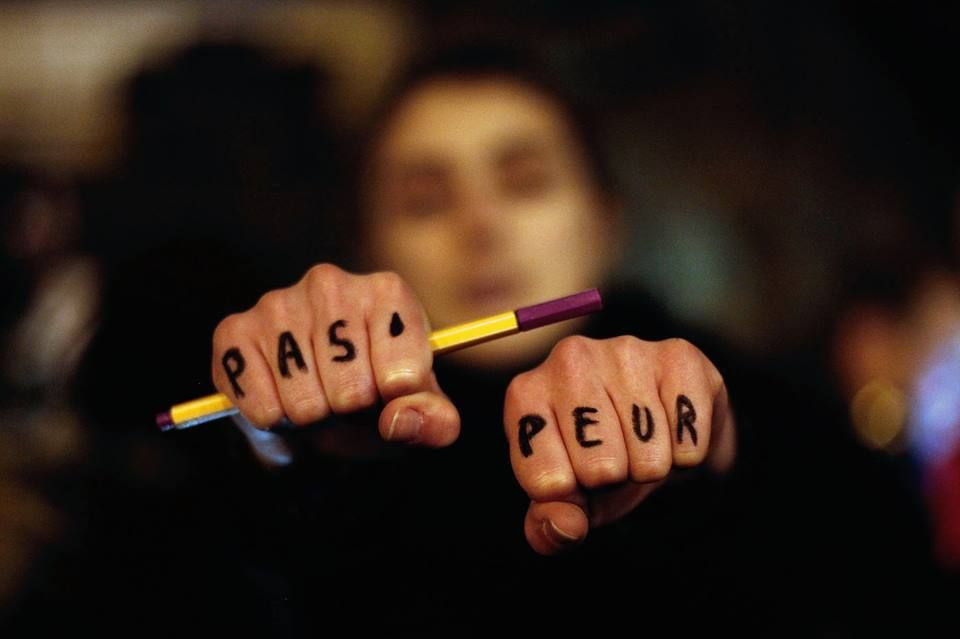 I pondered whether I wanted to address the massacre at Charlie Hebdo. Yes. Yes I do. It's time to not be afraid and it's time to stop trying to say that Muslims are practicing a peaceful religion. What really did it for me though was the hostage situation that unfolded in Paris at the Kosher grocery store. On a Friday. This was deliberate and as evil as it gets. For those who haven't connected the dots on this one Fridays are always the busiest at Kosher grocery stores. The people are there to buy the foods they need for Shabbat.
Yes I take this personally. As I've mentioned before although I was raised Catholic my mother is Jewish and to many peoples way of thinking I am Jewish as is my daughter. It absolutely breaks my heart that my daughter at my mothers insistence doesn't know my mom is Jewish. She figures that Princess Bear (PB) has enough issues to deal with because of her physical and mental disabilities she doesn't want to "add another to her plate." How fucking wrong is that? Not only does PB not know her grandmother is Jewish but somehow in the effort to not share this part of her heritage with PB my parents have taken so far that PB began to think there was something wrong with Judaism. PB and I were looking at holiday manicures on Pinterest. She was giving everything a thumbs up or thumbs down rating. We ran across a Hanukkah manicure and PB reacted very negatively. I instantly about blew a gasket but caught myself. I asked her why she thought that. She replied that her Boaby thought Hanukkah was bad. Nothing could be further from the truth. She also doesn't know how much her grandmothers faith touches her life without her having any real knowledge of it. Even the name she calls her grandmother is what Jewish children call their grandmothers (although most spell it Bubbe). We did have a talk with PB and let her know that Judaism is a wonderful religion and Hanukkah is a fun holiday. On the one hand I hate that my mom wants to hide this from PB but on the other hand I can understand why she feels that way. Growing up I always wore 2 necklaces. One had 2 pendants on it. An S and a Celtic Cross. The other had a chai which is the Hebrew symbol for life. From the time I started wearing the chai my mom started schooling me on how to handle it. Ever on an airplane in a hostage situation. Rip it off and hide it in the seat. When we were on our way to Huntsville for a summer job I had we were near Memphis around 1am. I looked over at the truck next to me. There were 3 people in KKK robes. Without a word my mom held out her hand. I knew what she wanted. She took my chai and gave it back to me when I came home at the end of the summer. Can I tell you how crazy it is that we're living in a world were this is a concern? Where my daughter can't safely be told all about her heritage? There is something wrong with all of this.
Now if the folks at Charlie Hebdo were just drawing anti Muslim cartoons there might (might) be some room to say that they were doing something wrong. That wasn't the case. The fact that the gunmen were yelling "We have avenged the Prophet Muhammad" and "God is Great" in Arabic ("Allahu Akbar") is just more reason to question why if Islam is such a religion of peace that Muslims all over the world are not decrying these situations.
2 night ago I read about Richard Dawkins response to the terror attack. Now just so you know right off the bat I pretty much think that Richard Dawkins is a complete asshat and a waste of valuable oxygen. Before you start questioning why I think this I'll just answer it for you. It doesn't make a damn bit of difference to me that he's an atheist. That's his concern or problem. However you want to look at it. I firmly believe that everyone needs to have faith in something higher than themselves. There will come a time that you need to have faith in something and if you don't have that light at the end of the tunnel I feel sorry for you but I won't dislike you for it. Now what he has said about Down Syndrome children and the fact that he things that every woman carrying a Down Syndrome child should have an abortion pretty much makes him a despicable human being in my book. SO, it really grates on me when someone that I pretty much so have zero respect comes out with such great responses that I can agree with. The following were taking from a Blaze article you can find
HERE
. Here's the short version:
Richard Dawkins
✔
@RichardDawkins
Follow
Richard Dawkins
✔
@RichardDawkins
Follow
No, all religions are NOT equally violent. Some have never been violent, some gave it up centuries ago. One religion conspicuously didn't.
I stand with the non-Sharia Citizens of the Republic of France. The worldwide muslim community has my vote of zero confidence in its ability to win the ideological war it claims to wage against the supposed 'minority of radicals'. Moderate muslims cannot and will not outbreed, outshoot, outfight or outmanuever the violent ones. It's not going to happen. You know what that tells me? Islam is an epic fail. If it truly is about peace, Muslims, you failed in checking the
violent ones, and you're gonna have to wrestle with your own cognitive dissonance to free yourself from death cult. If it is NOT about peace (true) and advocates intellectual slavery and violence, the system deserves to be annihilated for the sake of innocents not wishing to be shot, beheaded, raped or sold into slavery.
Postmodernism and relativism have CASTRATED the defensive and tribal mindset necessary for the perpetuation of Western culture. Acts of 'barbarism' are committed by...guess who... BARBARIANS. Fight them more barbarically if you want to destroy them. Limited warfare has produced what we see here today. Holding the hand of a culture and attempting to 'rehabilitate' nations who house and spawn violent death cult adherents does nothing but convince them of our weakness and facilitate their continued growth.
Holding candles and pens may be symbolic, but it accomplishes NOTHING. The threat is still the same because the ideology is RESIDENT in France...and in the US. It is coming. Here. Soon.
Let me call out the elephant in the room. The war against jihadi butchers is not going to be won by lofty speeches, platitudes, candle holding, or ideas. We are fighting a medieval ideology and a brutal enemy that doesn't hold to standards of Western decency. If we want to be secure in our Liberty we are going to have to be MORE brutal, more bloody, more ferocious and effective at killing and destroying their CULTURE than they are in beheading ours. Nation building has b
een an epic fail. And lest you have moral qualms about the severity of these statements...these animals and the cultures that spawn them don't deserve your pity, they deserve your utter contempt for perpetuating endless violence, victimization of women and minorities, and refusing to correct their own moral vacuum.
Our enemies are COUNTING on the self-congratulatory morality of the liberal minded, 'educated' masses of soft, weak men who are more concerned about cardigans and shoe leather than shot placement and reloading time. They are also counting on the decency of average people hesitant towards violence as a solution. Criminals ALWAYS do this. It is how they mentally destabilize and control their victims. Whether it's a thug on the street in an ATM hold up, or militant defenders of the false prophet, the pattern is the same.
The last time we had a enemy hell bent on martyrdom and destruction of the self for the ideology? Japan....think about what had to happen to force their surrender. But again, we aren't going to do any of these things. Our best blueprint for keeping a sense of open mindedness without letting people kill us senselessly? Look at Israel and do what they do...except more.


We are how many days into this situation and now the muslim terrorists have HOSTAGES. The leaders of Muslim nations are SILENT...SILENT...SILENT. You know what that tells me? They 1) Agree and support this 2) Are so afraid of the terrorists in their own populace that they are silent.



Islam is the enemy of EVERY FREE man, woman, and child. It has no place in the United States or any western nation. The fundamental tenets of Islam are diametrically opposed to the foundational freedoms and truth this Nation was built upon. You cannot coexist with this level of backward evil. You may shake up oil and water all day long, but they will never mix.


Those were all taken from the Patriot Nurses Facebook page from the past couple of days. If you aren't familiar with her do yourself a favor and get familiar with her. She's a smart lady that shares some very valuable information. Google her. Find her youtube channel. It will be well worth your time.

Also I must give mad props to the President of France Francois Hollande for being brutally honest with the citizens of his country and calling it a terrorist attack from the word go. No whitewashing it. No calling it workplace violence. Honesty is the only way this problem can begin to be addressed.

I will apologize tonight. Not for the content of my post but for going all political 2 days in a row. Granted it was very different topics each time but I try not to do the political soap box too often. Unfortunately there are some times it can't be avoided.