Remember when I said that Princess Bears (PB) first day went fairly well except for one problem that I thought was nipped in the bud? That problem was the lack of air conditioning in her classroom. She MUST have air conditioning since she can't control her body temperature and has a tendency to overheat. Therefore it's been written into her IEP for years that any room she is in must have A/C. This year her teacher moved rooms but they didn't move the A/C unit. On Monday you could see where they had started but weren't done with the job. Ditto on Tuesday. I started panicking Tuesday night because the temperatures on Wednesday with the heat index were supposed to be in the mid 90's. I started to get PB used to the idea that she might not go to school the next day. That went over like a ton of bricks for many reasons. First being that she loves going to school, secondly she thrives on routine and lastly because it was her friend TL's birthday on Wednesday and she wanted to give him the card she'd made for him. I called the school at 7am Wednesday to see if any of the buildings men had been there since school dismissed at 2:30pm on Tuesday. No go so no school for PB. The principal called me to apologize for the lack of A/C and said she'd let me know as soon as it was in and working so PB could return to school. She also let me know that the absence would not be counted against PB.

So I had to cancel a medical test that I had scheduled for yesterday since I didn't want to bring PB along for it. Then it became a question of what to do with this kid who wasn't happy that she was missing school. I spent a large part of the morning on the phone dealing with her coordinator, principal and others trying to straighten out this A/C mess. Around lunchtime I decided to take her to Red Robin which is one of her favorite restaurants. After that we headed to Washington IL to see the Budweiser Clydesdale horses that are here for about a week. If you haven't had the opportunity to see them lately and they're someplace nearby you really should see them. They are truly magnificent horses. I love draft horses and have always joked that if I win the lottery that I'm going to start breeding Percherons. Clydesdales are pretty incredible horses in their own right and Budweiser definitely spends a lot of time and money taking care of their horses. The horse that PB rides is an Arabian that is about 14.2 hands. Clydesdales are around 18 hands high. PB looked at them and was like "those are some big boys!". Ya think kiddo? She was a bit bummed that the horses were all in their stables and couldn't be pet. We actually made two trips out there yesterday. During our second trip their mascot dalmatian was up and wondering around which also thrilled her. She really misses the dalmatian we had put down almost 2 years ago. After visiting the horses for the second time we went shopping for a new pair of boots for her to ride in and baby girl now has her first pair of Justins! Below are some pics from yesterday and after that is some info about the Budweiser Clydesdale and dalmatians taken straight from their website!



They travel in style!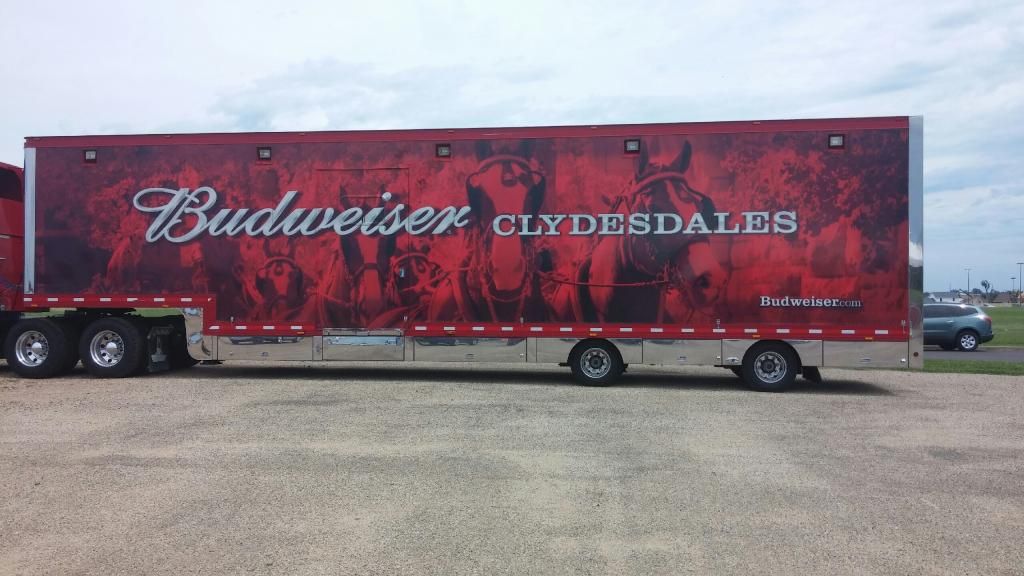 This guy below and on the right was 18.2 HH and weighs 2300lbs. Thats a lot of horse! Isn't he amazing?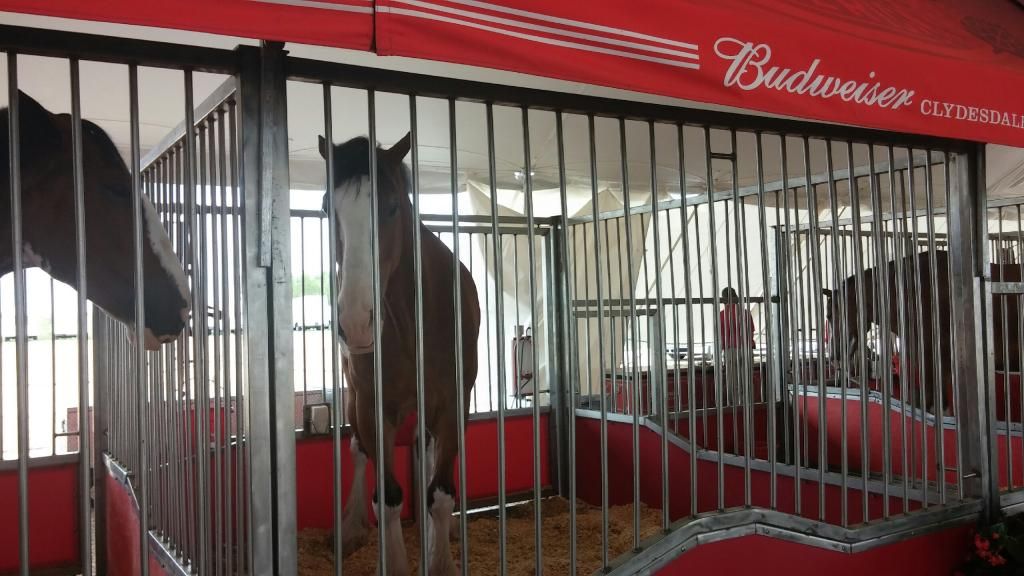 Just about the size of your dinner plate and about double the size of a "regular" horseshoe.
PB and Clyde the Dalmatian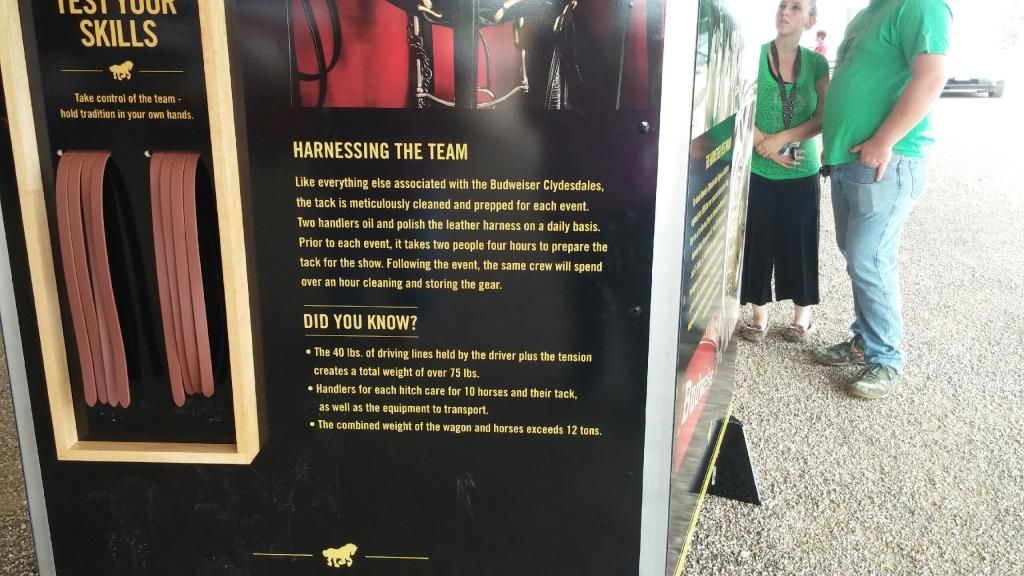 The history of the Budweiser Clydesdales can be traced back to 1933 when August Busch Jr. and Adolphus Busch III surprised their father with six Clydesdales parading down a St. Louis street carrying the first post-Prohibition Budweiser beer produced by the brewery after the repeal of Prohibition. Realizing the affect that these "gentle giants" had on the crowds of onlookers, Anheuser-Busch began breeding Clydesdales for the Budweiser hitch in 1940. With more than 100 Clydesdales, the Budweiser Clydesdales have become an American icon that invoke a sense of nostalgia and national pride. What are the qualifications to be part of the Budweiser hitch? 1. Age: four years of age or older 2. Height: at least 6 feet tall from ground to shoulder 3. Weight: between 1,800 and 2,300 lbs. 4. Appearance: Bay coat, four white legs, white blaze, black mane and tail How much does a Clydesdale eat? Each Budweiser Clydesdale hitch horse will eat as much as 20 to 25 quarts of whole grains, 50 to 60 pounds of hay, and drink 30 gallons of water per day. Where are the Hitch locations? When the Budweiser hitches are not on the road, the Budweiser Clydesdales can be seen at the Anheuser-Busch breweries in St. Louis, Mo., Merrimack, N.H., and Ft. Collins, Colo. They also may be seen at Grant's Farm in St. Louis and at Warm Springs Ranch near Boonville, Mo. How are locations chosen for appearances? Thousands of requests for the Budweiser Clydesdales are received each year from all over the U.S. Each request is evaluated on criteria, such as: type of event, event dates, and how often the horses have made an appearance in or around that location. Check out the Clydesdale appearance schedule. Where is the official home of the Budweiser Clydesdales? The official home of the Budweiser Clydesdales is on the 100-acre Anheuser-Busch brewery complex in St. Louis. How are the Clydesdales transported to events? Ten horses are transported in three 50-foot tractor-trailers. The team stops each night at local stables so the horses can rest. Each trailer is equipped with air-cushioned suspension and thick rubber flooring to ensure a smooth and comfortable ride. How does one become a Hitch Driver? Driving the combined 12 tons of wagon and horses requires expert skill and physical strength. Hitch drivers endure a lengthy training process before they assume the prestigious role of "Budweiser Clydesdale Hitch Driver." How big are the Clydesdales' horseshoes? Clydesdale horseshoes measure more than 20 inches from end to end and weighs about 5 pounds - a regular horse's shoe is about 10 inches and weighs about a pound. What are the Clydesdale's hoofs made of? A Clydesdale's hoof is made of a nerveless, horn-like substance similar to the human fingernail. Does it hurt when a Clydesdale gets new shoes put on? Not at all, it is much like a person getting a manicure. What type of wagons are used at hitch events? The wagons are restored, turn-of-the-century beer wagons. Named using first letter of mothers name History of the Budweiser Dog The Dalmatian breed has long been associated with horses, and valued for its speed, endurance, and dependable nature. Dalmatians, also referred to "coach dogs" because they ran between the wheels of coaches or wagons, were known to be good companions to horses. In the early days of brewing, Dalmatians were bred and trained to protect the horses and guard the wagon when the driver went inside to make deliveries. The dogs were swift enough to keep up with the wagons, and their light colored bodies and distinctive marking made them easy to see during twilight hours. How long have Dalmatians been associated with Budweiser? On March 30, 1950, in commemoration of the opening of the Newark Brewery, a Dalmatian was introduced as the Budweiser Clydesdales' mascot. Today, a Dalmatian travels with each of the Clydesdale hitches (East Coast, West Coach, St. Louis) perched atop the wagon, proudly seated next to the driver. What are the names of the Budweiser Dogs Budweiser has three Dalmatians - one for each of its primary hitch locations. 1. Budweiser Clydesdale West Coast hitch: Chip 2. Budweiser Clydesdale St. Louis hitch: Clyde 3. Budweiser Clydesdale East Coast hitch: Brewer How old are the Dalmatians? The age of the three Dalmatians range from only a year old to 7 years old. Are there any specific qualifications to be a Budweiser Dalmatian? To be one of the Budweiser Dalmatians the qualifications are pretty simple: the Dalmatian must be white with black spots, and have a good temperament. When the Budweiser Clydesdales pull into town, the excitement is uncanny and the news spreads quickly as hundreds gather to see these beloved icons. Before the crowds can see the magnificent Clydesdales though, it is time to set up and decorate! In one of the three semi-trailer trucks that take the East Coast Hitch from place to place, we carry portable stalls that shelter and protect these prized draft horses. Each panel weighs between 200-250 lbs. to make strong, stable enclosures that will keep the big guys safe and secure. Even the dog gets his own stall to feel right at home with the horses. After the stalls are set up, shavings, hay and water are added to guarantee that every horse is comfortable and at ease. Once all the necessities are put into place, the all-important Clydesdales are led to the stalls and comfortably settle in. While the horses get settled, it is time to decorate and let everyone know just how special these horses are! Awnings proudly displaying each cherished horse's name are positioned above the stalls. In addition to these name tags, signs are added to provide viewers with basic information and insight about the Budweiser Clydesdales. Each stall is adorned further with an array of decorative items and fixtures such as flowers and mulch. These are creatively placed around the stalls to give the Clydesdales' home away from home a little extra color and style to match the splendor of each esteemed horse. Garnishing the stall not only complements the beauty and regality of each Clydesdale, it also makes them feel loved and cared for. The process to onlookers is quite elaborate and time-consuming, but for the handlers, the extra attention to detail helps give the exceptional experience that guests have come to know and love. Loud clomping of shoes and the earth shaking under foot lets everyone know that the majestic Clydesdales are coming down the road. To be able to make this remarkable sound, the Clydesdales' hooves must be well protected and continually maintained. We have our horses reset every 6 weeks by farrier John Soto. Every 2-3 resettings the Clydesdales get new shoes. Since we are a traveling hitch, John flies in to wherever we are to make sure the Clydesdales don't miss out on their pedicures! Horse hooves are very similar to human nails. Just as we have to trim ours, horses need theirs trimmed, so that they can have good conformation, not only in their hooves, but in their legs as well. Due to the amount of time on pavement, the Clydesdales wear horse shoes which weigh approximately 5 lbs. a piece. The sturdy shoes make it possible for horses to tread over cement and other rough surfaces without the worry of the shoes growing thin too quickly. Most of our traveling team wears size 9 shoes, which are about the size of dinner plates. In the front of the shoe there is a toe clip which helps keep the shoe from slipping off the hoof as the 2,000 lb. horses gallop and move around. Borium is welded to the bottom of the shoes for better traction on slick pavements, which is crucial for the pulling of heavy loads and cargo, such as the 4-ton wagon that the mighty Clydesdales often pull! In addition to the shoe, we add a leather pad in between the shoe and the horse's frog, or sole of the hoof. This helps cushion and protect the more vulnerable frog from being injured by any hazardous debris that may be on a road, like glass or metal. Each pad and shoe is exclusively shaped for each individual horse in order to obtain the perfect fit every time!