I'm of it me some of it Princess Bear (PB). I did get about 4.5 hours of sleep last night though so I'm happy about that! PB is just one of those kids who feels the need to take out LOTS of toys and then do nothing with them up to and including putting them back. Today that led to a battle of wills. A very long battle of wills! As in 3 hours! (What can I say...I'm a stubborn pollack!) Now the thing is PB did pick up everything & I'm left with a blinding headache. I knew I was in trouble since I've had a cluster headache for days but man this sucks! My mom & dad even took her with them on a few errands so I could get a bit of peace. WOOHOO!
I didn't blog yesterday because we were a) recovering from Chuck E Cheese and b) busy. Chuck E Cheese was a very interesting experience. At first PB wanted absolutely nothing to do with anything. It took about a half an hour to get her warmed up. Then there was no keeping her away from the games. She loved playing skee ball....ummm can I tell you what a scary experience that was?!!!? Overhand throwing, lobbing balls, various THUNKS! At least no one was hurt and fun was had by all! Things were fine at dinner for all of the kids until the live show started. Even though I explained that Chuck E was a nice mouse...even Mickey's cousin she totally freaked. Here is a picture of PB under the table.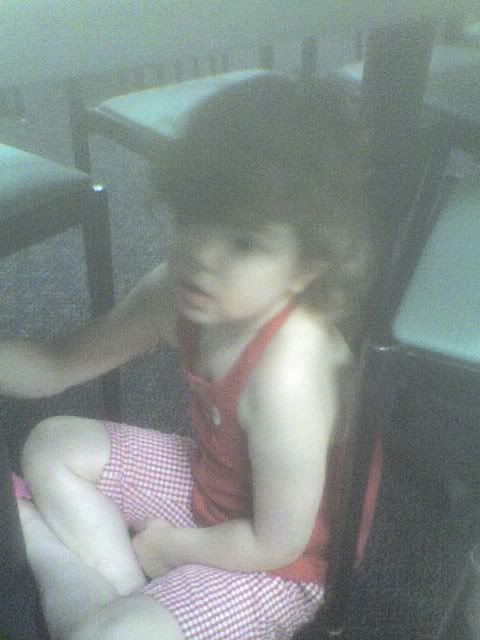 This is so different from my child who usually has no fear of anything! She fears nothing or anyone except for a gray mouse who owns a pizza joint! Guess that trip to Disney can wait for awhile!!!

I've been pondering kids toys for a few days. Mostly because PB got the new crop for her birthday. Is there anyway of taking care of a dolls hair to keep it looking nice and knot free?!!!? We have a new Strawberry Shortcake doll that has hair to her rear. She's been in the house for approximately 48 hours and has already had once major comb out that lead to some significant hair loss. UGH! Also, whoever invented Legos needs to be shot! Those things could be considered weapons of mass destruction...just walk on one barefoot!!! Hopefully Monika won't see this entry since I just gave her son some Legos!!! One the plus side of things we've found some toys that PB LOVES and will play with for more than 3 minutes!!!! I bought her the Pet Palace from the Go Anywhere Girls set. That's been followed by the carousel and dance studio. She's dying for the pony cart. I'm seeing it in her future!!! Honestly I can't even begin to explain how exciting it is to see her having meaningful play with toys!!!! She's been a part of the Lekotech program through Easter Seals for years but this is even better than that!!!!