Tonight's post is going to be short & sweet (just like me). I'm beyond tired and somewhat surprised that I'm still awake at the moment! It's been a crazy day and prior to today insomnia has been kicking my a$$. I have decided it's time for a couple of new piercings. Nothing too exotic. Just some new stuff on my left ear. The first thing I'm doing is a forward triple helix. I saw a picture of it and completely fell in love with the look.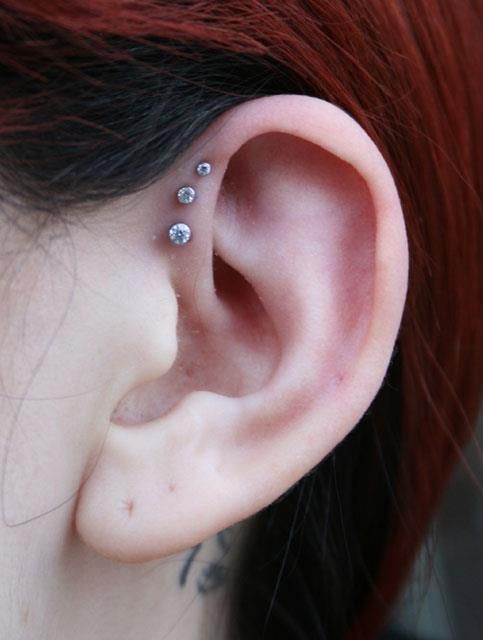 My problem is that I HATE silver. Finding piercing hardware that isn't silver isn't easy. I have the cartilage on my left ear pierced twice (actually 3 times but only 2 go in easily any more and I'm not feeling the need to push it.) When I have those in I always have small gold hoops. SO I figure what I do now should match. I looked for hardware for the triple helix in yellow gold and finally found it. Color me excited!



I'm also going to do my daith.



I've had my trag done twice and it's just a major pain in the butt. I figure the daith is a similar look and I love it with the heart hoop. I mean honestly how stinking cute is it???? I found a couple of different yellow gold heart hoop options for that. So my game plan is to go down and talk to Wanda (piercing & tattoo artist) and get her take on the piercings and if she'll do a white tattoo. Hopefully there will be time tomorrow or Friday. I want to order the hardware and get this done! So that is the story here. Now hopefully my happy _ _ _ can actually fall asleep. Catch ya on the flip side!




Sarah